Poisons and witches in the seventeenth century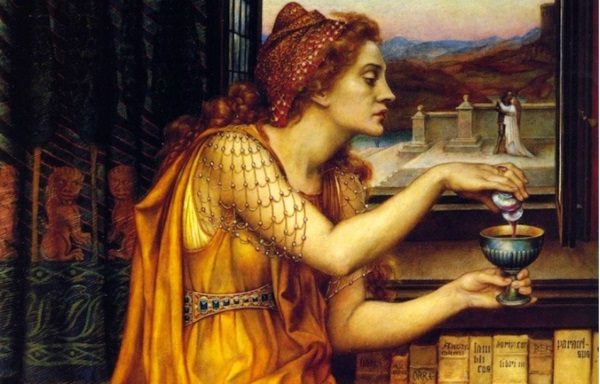 In the second half of the seventeenth century Giulia Tofana lived in Rome, she was a courtesan from the court of Philip IV of Spain and daughter of Thofania D'Adamo who, at the time, had been executed because she was accused of poisoning some men. Thofania was a sorceress and invented tofana water, an odorless and colorless poison that was nothing more than "arsenic acid dissolved in water".
Little is known about Thofania and her daughter Giulia; Thofania was beheaded in Palermo in 1633 on charges of having made the poison with which she had killed her husband and then other people.
The daughter, perhaps, knew the secret formula of her mother or, according to another legend, by attending an apothecary friar she had known the secrets of poisons and then by herself she had discovered that by boiling water with an arsenic derivative, lead filings and antimony a colorless, tasteless and odorless liquid was obtained which could easily be added to any food or drink.
Having found the "formula" Julia who was a beautiful but also very practical woman made her trade in Palermo, where she lived, risking to incur the judgment of the Inquisition Court. Julia at that time was lover of an abbot who was moving to Rome and that was how she moved with him.
News about her Roman life are few but she had to marry and take care of her family if years later, in a trial in which a large group of women accused of having poisoned their husbands, among the main defendants was Girolama Spana who had had Giulia as mother.
During the pontificate of Alexander VII it was discovered that in Rome a kind of association had formed between various aristocracy women, whose were getting their husbands out of the way with the tofana water, better known as the water of Perugia. But justice, despite having the evidence, lacked the courage to cut off heads of ladies like Vitelleschi and the Duchess of Ceri, who had benefited from services of Girolama Spana who, arrived in Rome, carried out the profession of marriage broker together with that one of witch.
In her profession she had been helped by Father Girolamo of St Agnes who, set aside the secret, was the one who made the aquetta with the arsenic that a certain Bishp Amidei procured for him.
When some aristocrats began to die even if they were still in good health, rumors began to circulate about mysterious potions administered by their wives, the court of the Curia did not want to intervene but, when the Spana made its acquetta available also to the lower classes and the poisonings became too many, she and her collaborators were arrested, tried and sentenced. Thus on July 5, 1659, "… five women were hanged for having dispensed carafe of distilled water with poisons of arsenic and solimate, with which water many ladies had killed their husbands and their other relatives, (moreover) of which many were women walled up in the prisons of the Inquisition. "
The execution took place in Campo de 'Fiori and the people of Rome came in ...
Sign up and read the rest of the article!
by M.L. ©ALL RIGHTS RESERVED (Ed 1.0 - 19/10/2021)
---