Villa Ludovisi Gardens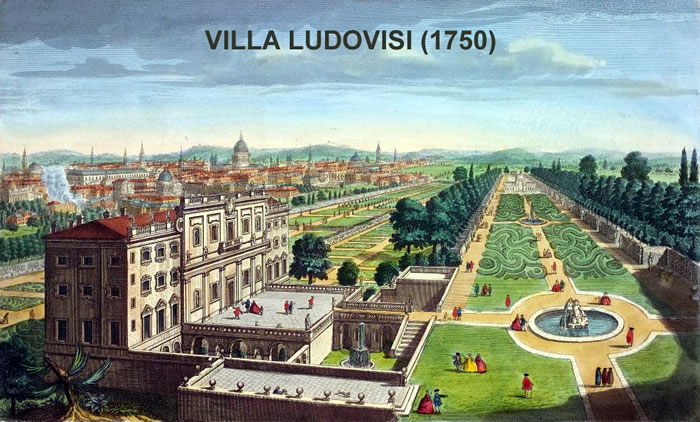 In the XVII century the Roman noble families and high cardinals loved to enjoy the warm weather outside the buildings, in urban villas where life flowed in entertainment and walking along tree-lined avenues and breakfasts in shady valleys.
With this purpose, in 1621 Ludovico Ludovisi newly appointed cardinal by his uncle, Pope Gregory XV and with the many other fillers and also considerable income could buy the Del Nero Grapevine with Casino Del Monte, and then immediately after the Orsini properties with Palazzo Grande, and then Cavalcanti , Altieri and Capponi vineyards. The Cardinal then called the Guercino who painted the Casino with the famous Aurora, and then called Domenichino to restore the Grand Palace and then the French architect Le Notre, who had made the gardens of Versailles, to design the garden, and then acquired collections of art Cesi, Cesarini, Carpi, Orsini, Soderini and Altemps, the Cardinal Padrone (Cardinal Owner) had created the wonder of the seventeenth century that was Villa Ludovisi.
Along the tree-lined avenues was possible to admire the more than 450 Greek and Roman statues that Cardinal had collected, and it restored; the Roman aristocracy and all travelers who passed through Rome asked to be able visit the gardens of the Villa who were considered among the most beautiful in the world.
After the death of the cardinal, the property passed to his heirs that they soon decided to open the gardens to those who ask to visit them and so many of the great travelers of the nineteenth century admired the Villa Ludovisi gardens: Goethe, Stendhal, Gogol, Elliot, Hawthorne until Henry James as he could admire it for the first time in 1873 and of which he wrote:
"at the (Villa) Ludovisi pines lifting their crooked parasols into a sky of what a painter would call the most morbid blue, and declare that the place where they grow is the most delightful in the world" ...
Sign up and read the rest of the article!
by M.L. ©ALL RIGHTS RESERVED (Ed 1.0 - 08/08/2016)
---