The small fountain of lovers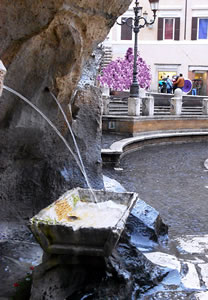 Near the most famous fountain in the world, Trevi Fountain, there is a small fountain that the architect Nicola Salvi created next to the monumental exhibition to give a chance for passersby to drink, that is known as the Fountain of Lovers.
The small fountain owes its name to the legend according to which the Roman girls when their lover had to leave for a soldier to be sure that he would return as they had a little ritual: they were accompanied to drink the water Trevi that two cheerful jets were to fall into the little fountain located on the right of the large fountain and carrying the new glasses, they drank together the Virgin water and then broke the glasses so their love would last forever.
When the Salvi architect designed the fountain was concerned it was easy reach it because that simple fountain had a very specific purpose; In fact, if the Trevi Fountain although the exhibition monumental water Virgin, was both the Acqua Vergine aqueduct terminal castle - the one built by Agrippa in the first century. B.C. to supply its thermal baths and give the water to the Regio Via Lata - that Pope Clement XII did reactivate and expand to bring water to the people who lived in the districts next to Via Lata and the Campus Martius. In the XVII century the water was only in dwellings of aristocratic families, in the monasteries, where it was necessary for productive activities and in any case was to be paid an annual fee based on the capacity of "fistula" (or blowpipe).
For the ordinary people drinking water was available in the fountains and small fountains and there the women went to get water with jugs; just to give the people of Rome the opportunity to take water, the architect Nicola Salvi built the fountain with the two jets that cross, while the tub that collects water could also be part of the fountain which was located in the same place before it was built the monumental exhibition.
Worth to make a brief reflection on the peculiarities of the two jets that cross and that gave rise to the legend of the lovers; Salvi definitely could simply make a single blowpipe down but maybe decided to give the fountain, although very simple, a symbolic meaning: he decided to bring down water from two pipes that made her jump in the tub crossing at the end of the fall. In Christian symbolism the doves drinking together in the stone chalice represent the soul and by translation the inner emotions and higher emotions like love that can never end.
by M.L. ©ALL RIGHTS RESERVED (Ed 1.0 - 31/07/2016)
---