'Square Fiammetta', the courtesan house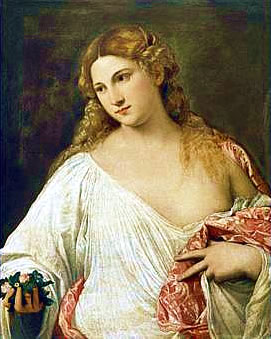 Behind "Via dei Coronari", where were the sellers of rosaries and holy images and that was the street the pilgrims have to walk for going to St. Peter, opens wideone that already in the plant of Maggi of 1625 was called Piazza Fiammetta.
The square name was given by the people of Rome that called this way the home of Fiammetta De Micaelis, born in Florence and Cardinals lover by profession.
She was born in Florence in 1465, the mother was a courtesan too; arrived in Rome was thirteen for almost two years was the lover of Cardinal Jacopo Ammanati, humanist and erudite that when died left heir of his possessions. There was no scandal but Pope Sixtus IV blocked inheritance, and appoint a Commission which had the task of resolving the issue; eventually "for love of God and to provide her a dowry" were given four properties to Fiammetta. She rented the House in the square for 26 year ducati and held herself the houses of Via dei Coronari 157 and Vicolo della Palma, in addition the Casino with Vineyard near Porta Viridaria and the Vatican.
Fiammetta was an "honest courtesan", belonged to a good family, was of high social standing and able to speak of love and poetry. She received every night the new lover, cardinal Cesare Borgia Pope's son, in the Vineyard near Porta Viridaria.
Pietro Aretino says that at some point in his life she had a spiritual father, Egidio da Viterbo that led to leave "the life of sin for contemplation and meditation". Fiammetta died in Rome in 1512, at 47 years, leaving to be buried in the Church of Sant'Agostino, where since 1506 had the patronage on the first Chapel to the left, which, as Vasari relates, had made decorate with frescoes and an altarpiece of Pietà by the florentine Jacopo Indaco.
Her grave as those of Julia Campana and Tullia d'Aragona, have disappeared, probably eliminated from the fury of the Counter-Reformation.
His estate went to his son Andrew and, with a special clause that helps to understand the character of the "honest" courtesan, the buildings could not be sold, exchanged or transferred, if not for the sum of 300 "carlini" (kind of money) in case of marriage of a daughter in need of "dowry". If the heirs have not complied with this clause the goods left to be among some pious schools scores.
The Renaissance-style building is located between Piazza Fiammetta and Via degli Acquasparta, in "rione Ponte", maintains typically medieval elements; has three storeys surmounted by typical Roman altana and there is a small porch with three arches supported by columns ad pillars opens onto the square.
During Renaissance in Rome about 10% of the population were women, even very young, who prostituted; they came from every part of Europe, attracted by the opportunity to earn a lot and quickly becoming courtesans. But many were not those that were able to become lovers of Cardinals or ambassadors because besides being brave lovers should also know how to talk and entertain guests. There were two different kinds of courtesans: the cortigiana di lume, a courtesan of the low classes similar to modern common prostitutes and the honest courtesan, often highly cultured woman, capable of receiving and talk about art and poetry. Even poets and painters had lovers as Pietro Aretino who, inspired by his Caterina, he wrote the play entitled "The Courtesan" or as Raphael who loved and portrayed her "Fornarina".
by M.L. ©ALL RIGHTS RESERVED (Ed 1.0 - 22/07/2015)
---