Agrippa Postumus (12 B.C. – 14 A.D.)
When Marcus Vipsanius Agrippa died in March 12 B.C. in Campania, his wife Julia was expecting a child who was born 5 months after the death of his father and was named Agrippa Postumus; it was customary for the Romans to give the name of Postumus to children born after the death of their father.
Agrippa Postumus, born after the death of his father, lived with his brothers in the house near Domus Augusti, it was in fact the grandfather Augustus who as pater familias took care of his education and, in 2 BC. he made him participate as a member of one of lusus Troiae teams in occasion of the dedicatio of Mars Ultor Temple.
That same year his brother Gaius Caesar died and two years later the other brother Lucius Caesar also died, he was the last grandson left to Augustus who, in June 4 AD, adopted both him and Livia's son Tiberius.
After the adoption, which was equivalent to appointment as the next emperor, events developed around the sixteen-year-old of which he was mostly a passive actor.
Historians have left descriptions of his physical appearance and character: Tacitus (Annales I, 34) describes him as devoid of education and stupidly proud of his physical strength. About his character remains the description made by Suetonius and by Velleius Paterculus as a young foolish and easy to violence, reasons for he would soon be expelled from Rome, in fact he was sent into exile in 7 AD first in Sorrento and then in Planasia ( Pianosa); reality could also be different because the two historians were not exempt from personal involvement with Tiberius and gens Claudia who had always been opposed to gens Julia. Velleius Paterculus was contemporary with Agrippa Postumus but he was also "clientes" of Livia and Tiberius, in fact he was grandson of that Gaius Velleius who had organized the escape of Tiberius Claudius Nero and his young wife Livia Drusilla saving his life, and was son of Velleius commander of Tiberius cavalry in Germany during campaigns of 19-14 BC.
Suetonius lived a century later and while the accounts of the "Lives of the Caesars" were very lucid often highlight the defects more than the merits of all those who preceded the Emperor Hadrian whose the historian was in charge of propaganda.
Suetonius recounts that Agrippa Postumus was a great lover of fishing to whom he devoted much of his time, so much so that he was accused of lust for his propensity and for the habit of being called "Poseidon". Someone saw in these attitudes signs of madness, however reasons were not these but probably other because in 6 AD, only two years after the adoption, with a senatorial decree he was confined to Sorrento and the following year, therefore at 19 years of age, on the island of Planasia (today Pianosa); in 7 A.D. Augustus erased Agrippa from the line of succession by "undermining him".
Suetonius recounts that Augustus sent him into exile because "he was becoming madder every day" while, as Tacitus states because he was "absolutely unadorned of good qualities, foolishly brutal in body strength, but, despite this, innocent of any guilt."
His golden exile in Pianosa, where he also dealt with fish farming of valuable species, lasted seven years, in which the young prince found himself several times at the center of court intrigues, which would ultimately lead to his premature death. The figure of Agrippa remains difficult to understand due to the generic and sometimes improbable explanations that historians give of his behavior and the complex events of the palace of which he was the object if not the protagonist.
One story is that of the letter that the plebeian Junius Novatus made public, it was a letter full of invectives that would have been written by Agrippa to Augustus; the story is singular because it had its epilogue in court where Augustus sentenced Junius Novatus only to pay a fine.
More important is the attempt by a faction of the "Circle of Julia" to raise against Augustus, which historians date to 8 AD, behind which were his sister Julia Minor and her husband Lucius Aemilius Paulus and his brother-in-law Asinius Gallus, whose entrusted Asinius Epicadus, a freedman of Asinius Gallus, and Lucius Audasius, an obscure figure of a physically disabled forger, the task of kidnapping Agrippa and her mother Julia (also in exile but in Pandataria) to take them to the castra of the legions and unleash a civil war.
This attempt was unsuccessful because some historians are inclined to believe that the "rescue" of Agrippa was entrusted to the poet Ovid, very attached to the "Circle of Julia", which was on the island of Elba and was joined there by a decree of expulsion issued by Augustus himself ...
Sign up and read the rest of the article!
by M.L. ©ALL RIGHTS RESERVED (Ed 1.0 - 09/01/2022)
---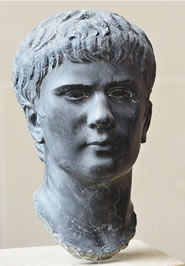 Agrippa Postumus, basanite - Louvre Museum, Paris F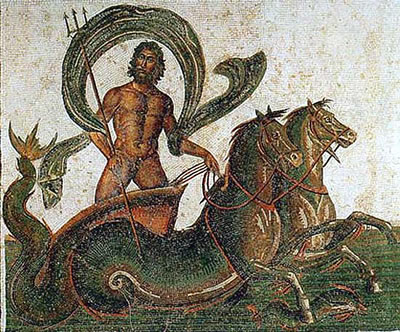 Roman mosaic - Poseidon pulled by seahorses - Sousse Museum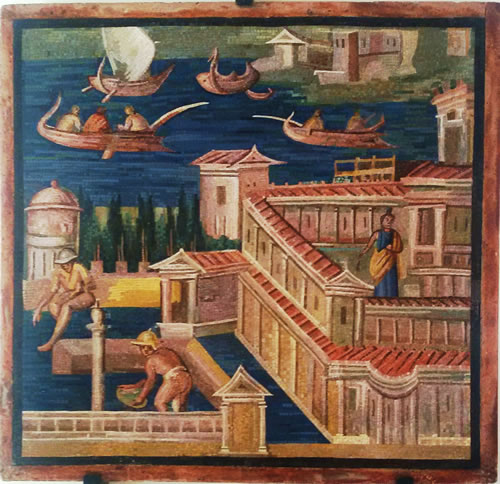 Mosaic depicting a maritime landscape, 4th century AD - Archaeological Museum of Venice IT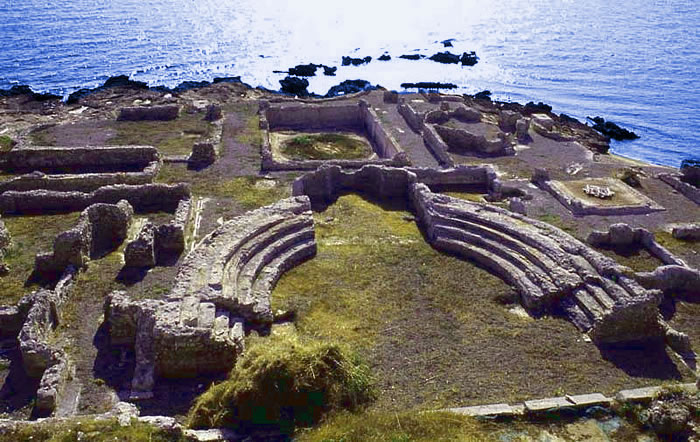 Agrippa's bath, the Theater, 1st cent. A.D. - Pianosa Island IT